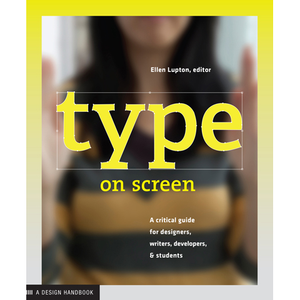 Type on Screen
A Critical Guide for Designers, Writers, Developers, and Students
Description
The long awaited follow-up to our all-time bestseller Thinking with Type is here. Type on Screen is the definitive guide to using classic typographic concepts of form and structure to make dynamic compositions for screen-based applications. Covering a broad range of technologies, from electronic publications and websites to videos and mobile devices, this hands-on primer presents the latest information available to help designers make critical creative decisions, including how to choose typefaces for the screen, how to style beautiful, functional text and navigation, how to apply principles of animation to text, and how to generate new forms and experiences with code-based operations. Type on Screen is an essential design tool for anyone seeking clear and focused guidance about typography for the digital age.
Ideal textbook for college-level courses in web design, interaction design, and motion graphics
Packed with illustrations from the international design community
Accompanied by a companion website, www.typeonscreen.info, that provides live demonstrations of screen-based hierarchies, interfaces, logotypes, and animations
Editorial Reviews
Design Notes
I'm not sure what else is out there for digital typography books these days but Type On Screen has timing on it's side. The book shows relevant examples (for the most part), gives entry points for future learning.
templatemonster.com
For a long time typography was regarded as printing on paper and a number of books were dedicated to how it should be done. Today, when typography is a web art, it requires another approach...While reading it you'll know how to apply key principles of animation to the text, generate new forms and experiences with code-based operations. As you see, that's a worthy book for all those who are seeking for A-Z guide about an art of typography.
Design Shack
Ellen Lupton is the queen of typography. Her newest book, Type on Screen, was released this week and is just as good as you might imagine. I have already spent hours looking through the book which you want as a paper copy; it is beautiful. The information is presented in an easy to follow way that works for beginners or experienced designers and includes plenty of practical applications.
Mograph Candy
This is no turn to this page and do this to make it do that formula book. The book is meant to be read and studied. It encourages you to look further into typography and how it's implemented across all digital media. Any motion graphics designer interested in designing HUD and GUI for movies and television should consider this section a starting point as is goes over the basics of UI/UX wireframe mockups and the interaction of elements. While there is no chapter called Type for Motion Graphics Artists, there is plenty to be discovered in each section for a motion graphics designer to adapt to their work.
Page magazine
Highly Recommended!
graphicdesign.com
Type On Screen should be required reading for every Web / graphic design student. Pros will benefit from it as well. Type On Screen is sure to become a staple in every Web designer's growing library.
The Designer's Review of Books
As a design educator, I find that there is a constant uphill battle to get students an ever increasing amount of information in a continually shrinking amount of time. Ellen Lupton's previous books, including Thinking With Type and Graphic Design: The New Basics, have proven invaluable resources in this continued endeavor. Her latest book Type On Screen is yet another strong resource which provides a thorough overview of everything related to typography in the digital realm in a succinct and easily comprehendible manner.
Typographical.com
It's certainly one of the most comprehensive digital typography guides I've spent time with. It covers a wide array of digital type needs from websites to mobile to video and more, with tons of real-world and easy-to-use tips for related projects. It's essentially a continued college-level look at typography in digital design.
I Love Typography
...a fascinating typographic inventory of the present. It shows us just how far we've come...Reading about type in this context is inspiring. For those of us who have lived through the evolution of the craft, Type On Screen is an epic hair-metal ballad---a celebration of living squarely in the age of enlightenment of on-screen typography.