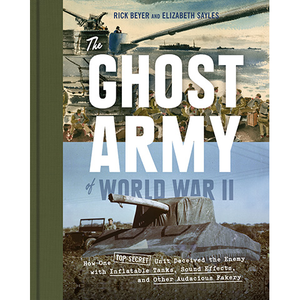 The Ghost Army of World War II
How One Top-Secret Unit Deceived the Enemy with Inflatable Tanks, Sound Effects, and Other Audacious Fakery
Description
"A riveting tale told through personal accounts and sketches along the way—ultimately, a story of success against great odds. I enjoyed it enormously." —Tom Brokaw


The first book to tell the full story of how a covert group of designers and artists wielding imagination, ideas, and bravado saved thousands of American lives in World War II.

In the summer of 1944, a handpicked group young artists, designers, actors, architects, and sound engineers—including such future luminaries such as Bill Blass, Ellsworth Kelly, Arthur Singer, Victor Dowd, Art Kane, and Jack Masey—landed in France to conduct a secret WWII mission. This group of 1,100 men of the 23rd Headquarters Special Troops, known as the Ghost Army, was the first mobile, multimedia, tactical deception unit in US Army history.
From Normandy to the Rhine, they designed and deployed phony convoys, phantom divisions, make-believe headquarters, and more, to fool the enemy about the strength and location of the American Army. Every move they made was top secret and their story was hushed up for decades after the war's end.

Through text and hundreds of color and black and white photographs, The Ghost Army of World War II illuminates their creations, and how they supported the war tactics that helped open the way for the final drive to Germany. The stunning art created between missions offers a glimpse of life behind the lines during World War II:

• Lavishly illustrated with original paintings, sketches, maps, and photographs
• Presents personal accounts and never-before-seen artwork by some of twentieth-century America's leading visual artists
• Shows first-hand the inflatable tanks, counterfeit patches, and highly orchestrated fake maneuvers created by the Ghost Army

Any avid history reader or collector of World War II books will find The Ghost Army of World War II an essential addition to their library.
Editorial Reviews
Slate
What a story! In 1944, an American unit of 1,100 artists, designers, and sound engineers, known as 'The Ghost Army,' snuck around France, using inflatable tanks, fake street signs, sound-effects records, and other tricks in order to deceive the German army into believing the Allies were somewhere they weren't. The book is full of drawings, paintings, and sketches by the men of the unit. In the end, it's a book about this weird (and successful!) project, but it's also a personal visual record of the last year of the war, executed by soldiers who had been selected for their artistic talent.
Newsday
World War II history buffs will get a charge out of Rick Beyer and Elizabeth Sayles's The Ghost Army of World War II, about a top-secret group of GIs who in 1944 deployed rubber tanks, fake artillery and other decoys to distract and mislead the Germans in France. This little-known episode is recounted alongside photographs, memos, maps sketches and other memorabilia.
The Manual
The Ghost Army is a unique book in many ways, which is little surprise given its subject; but perhaps the most striking thing about this tome is the fact that it can be enjoyed in two distinct ways. The hardcover book is large--- it is of what one would call coffee table proportions, measuring about eight by ten inches and about 240 pages long. Those pages are an almost even blend of captioned photographs, sketches, maps, graphics, and pure text. You could flip through The Ghost Army reading only the captions and looking at the pictures and be left with a decent understanding of what the unit did and who comprised its ranks. Alternately, you could read the prose without glancing at a single image and come away with a thorough grasp of who they were and what they did. But of course The Ghost Army is best enjoyed when every word is read and every image appreciated.